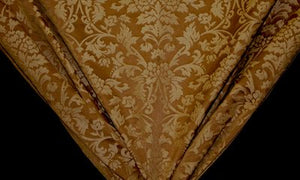 SKU:222
Fabric Model:DJ-VAC10
Specifics:
Width: 55"
Content: 51% Polyester: 49% Cotton.
Care Instructions: Dry clean recommended.
Description: Honey gold leaf and floral design on a cocoa brown or taupe ground. Midweight; 8.25 oz. per square yard.
Repeat: Horizontal- 13 3/4"; Vertical- 15".
Uses: Perfect for drapery, light upholstery projects, pillows, duvet covers, cornice boards, and much more!