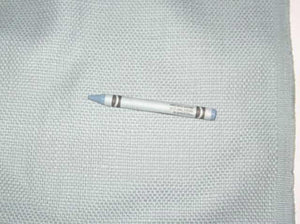 SKU:  211
Fabric Model:  UCO-GB1
Specifics:
Width:  

56" wide including 1/2" selvages.

Description:

 

Ice or Glacier Blue. The rolls are marked ice blue but to my eye, the fabric is a little darker and leans more teal than a true pale ice blue. The crayon is Crayola's "Wild Blue Yonder". The intensity of the crayon is similar to the depth of color in the fabric but the fabric has a little more of a greenish-teal cast than the crayon (the crayon leans a little more blue gray). I tried this fabric with my "Robin's Egg" Blue crayon but the color of the crayon was much too intense and had more green than the fabric. This is a really pretty light blue. For anyone who has purchased our Glacier Blue taffeta, the hue of this fabric is similar to the taffeta but the color of the basketweave fabric is a little less intense.  

About 12 oz. per square yard so similar in weight to many of our brushed twills but with texture given by the basketweave stitch.

Fiber Content:

 

100% cotton fabric; pre-washed by the manufacturer and intended for home dec use (slipcovers, drapes, upholstery). Very nice quality.
Care Instructions:  Machine wash cool/warm, tumble dry warm or permanent press.  Pre-washed & pre-shrunk by the manufacturer; however, you may want to wash and shrink it again before using since cotton continues to have some shrinkage.

Uses:  Great for slipcovers, pillows, upholstery, draperies and many other uses!
Shipping Rates: $1.01 - $25 - $9.95 -- $25.01 - $64.99 - $12.95 -- $65 or more - Free Shipping

Return Policy: Prior approval is required. Returns must be made within 30 days. Fabric must be returned uncut and unwashed. Upon return of fabric, refund will be processed after inspection. Customer pays all return shipping charges and there is a 20% restocking fee.