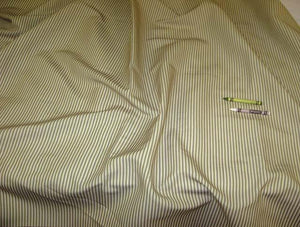 SKU:  537
Fabric Model:  DS-RS3
Specifics:
Width:

 

56" wide including 3" of selvages so 53" useable
Color:  

Royalty - Sage. This is a narrow stripe pattern in sage green and a dark cream. The stripes are approximately 1/4" wide and form an even pattern.  The alternating stripe is darker than the "White" crayon - more of a dark cream or tea-stained look.

Description:  

Light to mid-weight drapery fabric (about 5 oz. per square yard) with a very smooth (not quite slick) feel (probably 100% polyester). Very tightly woven. Soft hand and drapes and gathers well.  

Pattern is printed on not woven in.  Protective finish (Scotchgard or similar).  Fire Retardant according to the information printed on the selvage - we have no other information as to what fire retardancy standards it may meet.
Fiber Content:  Probably 100% polyester fabric.
Care Instructions:  There was no information on the fabric but I took a piece home and test washed it (cool to warm water; medium dryer) and it washed and dried beautifully.
Manufacturer:   Bloomcraft Fabrics.
Uses:  Drapery, pillows, duvet covers and more!
Shipping Rates: $1.01 - $25 - $9.95 -- $25.01 - $64.99 - $12.95 -- $65 or more - Free Shipping

Return Policy: Prior approval is required. Returns must be made within 30 days. Fabric must be returned uncut and unwashed. Upon return of fabric, refund will be processed after inspection. Customer pays all return shipping charges and there is a 20% restocking fee.