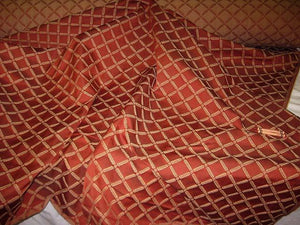 SKU:  231
Fabric Model:  DJ-LR18
Specifics:
Width:  

54 3/4" wide less 3/4" selvages on either side so 53" - 54" wide without the selvages.

Color:  This is a pretty combination of rust (burnt orange or light brick) and light gold. The crayons in the photo above are Crayola's "Chestnut" and "Bittersweet". The rust color falls very close to the color of the "Chestnut" crayon -- almost an exact match. The crayons in the "B" photos below are "Chestnut", "Bittersweet" and "Goldenrod". The gold in the fabric is very light - not as intensely gold as the "Goldenrod" crayon. 
Description:  Elegant, Formal Jacquard Drapery or Upholstery Fabric featuring a leaf and lattice pattern that covers the entire width of the fabric. The fabric is approximately 8 1/4 oz. per square (not running) yard. Suitable for draperies or for light to medium use upholstery projects. I would not recommend it for sofas, etc. that receive hard daily use (especially from children and pets) but it is well-constructed and tightly woven. Has a fairly firm hand - it can be crushed and gathered but has nice body.  Made in India.  

The rust areas of the fabric are formed by a fine satin stitch having a very smooth feel. The light gold areas are in a plain stitch and are not quite as satiny or fine as the rust areas.  Mid-weight.

Repeat:  Diamonds formed by the lattice pattern are approximately 2 1/4" x 2 1/4".
Fiber Content: 54% cotton; 46% polyester.
Uses:  

Perfect for drapery, pillows, duvet covers, cornice boards, and much more!
Shipping Rates: $1.01 - $25 - $9.95 -- $25.01 - $64.99 - $12.95 -- $65 or more - Free Shipping

Return Policy: Prior approval is required. Returns must be made within 30 days. Fabric must be returned uncut and unwashed. Upon return of fabric, refund will be processed after inspection. Customer pays all return shipping charges and there is a 20% restocking fee.