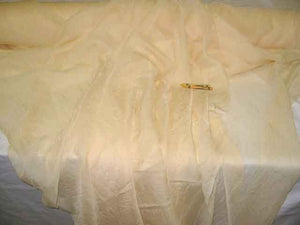 SKU:  406
Fabric Model:  SHW-YE6
Specifics:

Width:  110" wide including 1/2" selvages on either side.
Color:  Shown with Crayola's "Yellow" and "Dandelion" crayons. The fabric has a hint of a peach or apricot undertone. The hue of the fabric is between the yellow and dandelion (although it has the apricot similar to the dandelion). The color is not as intense in the fabric as it is in the crayons.
Description:  Crinkle Sheer - you can see objects through it and can distinguish details but not as sheer as our organza fabrics. The fabric is "crushed" to create permanent crinkles. When you wash the fabric, wrinkles come out & the permanent crinkles remain.  Soft hand and drapes well.  Tightly woven selvage.
Fiber Content:  100% polyester. 
Care Instructions:  Machine wash, cool & gentle; tumble dry, medium.
Uses:  Great for sheer curtain panels, scarf valances, bed canopies, table toppers and many other treatments. Use wherever you want a sheer fabric that drapes well. Great for wedding and party decor - drapes beautifully!
Shipping Rates: $1.01 - $25 - $9.95 -- $25.01 - $64.99 - $12.95 -- $65 or more - Free Shipping

Return Policy: Prior approval is required. Returns must be made within 30 days. Fabric must be returned uncut and unwashed. Upon return of fabric, refund will be processed after inspection. Customer pays all return shipping charges and there is a 20% restocking fee.